Directions to Matanuska Glacier
How to Get to Alaska's Matanuska Glacier
You're about to see some of the best scenery Alaska has to offer, and we look forward to helping you have the best experience possible. Whether you're driving from Anchorage to Matanuska Glacier, or coming from Fairbanks to the North of us, you're likely to have one of the best days of your life. From the scenic drives, surrounding landscape, occasional wildlife sightings, and of course your experience walking on Matanuska Glacier itself, this is going to be a day you'll never forget.
Glacier Tours is located a short hop off the Glenn Highway.
Drive the beautiful Glenn Highway Scenic Byway
any time of year!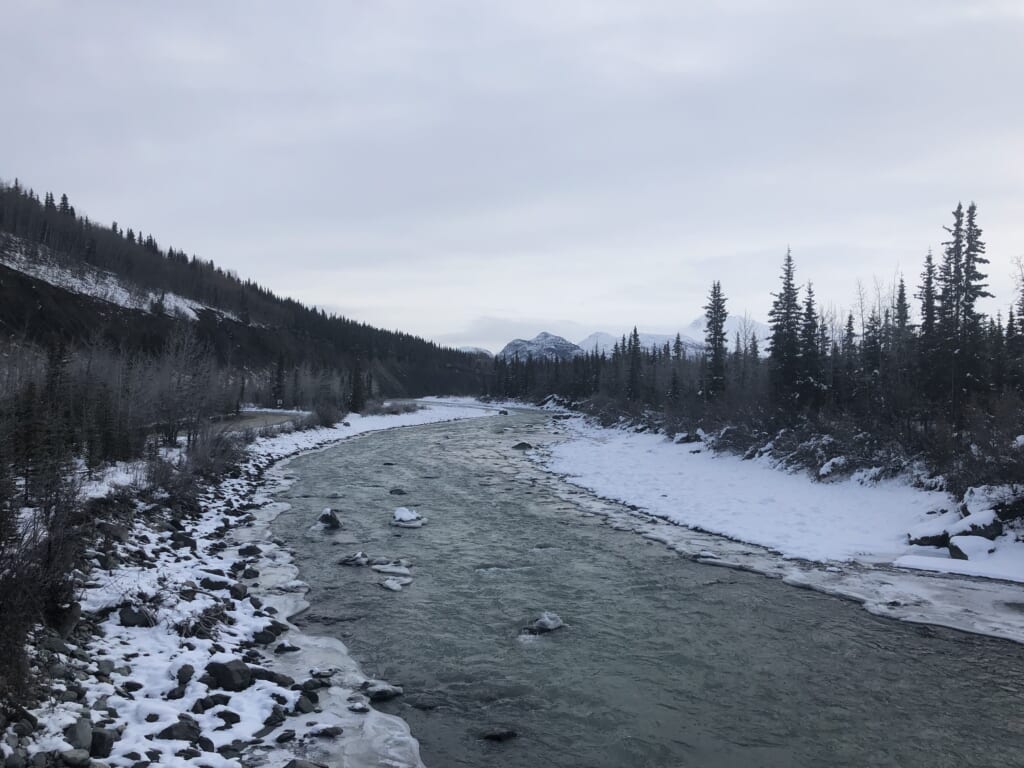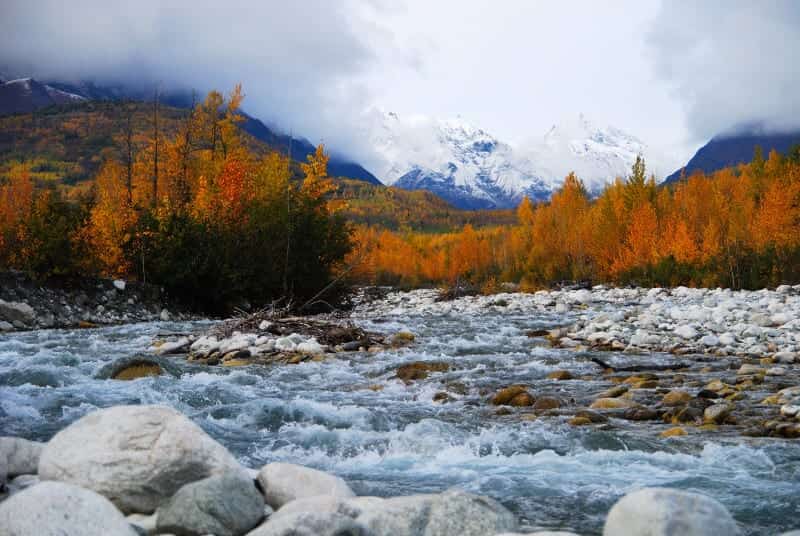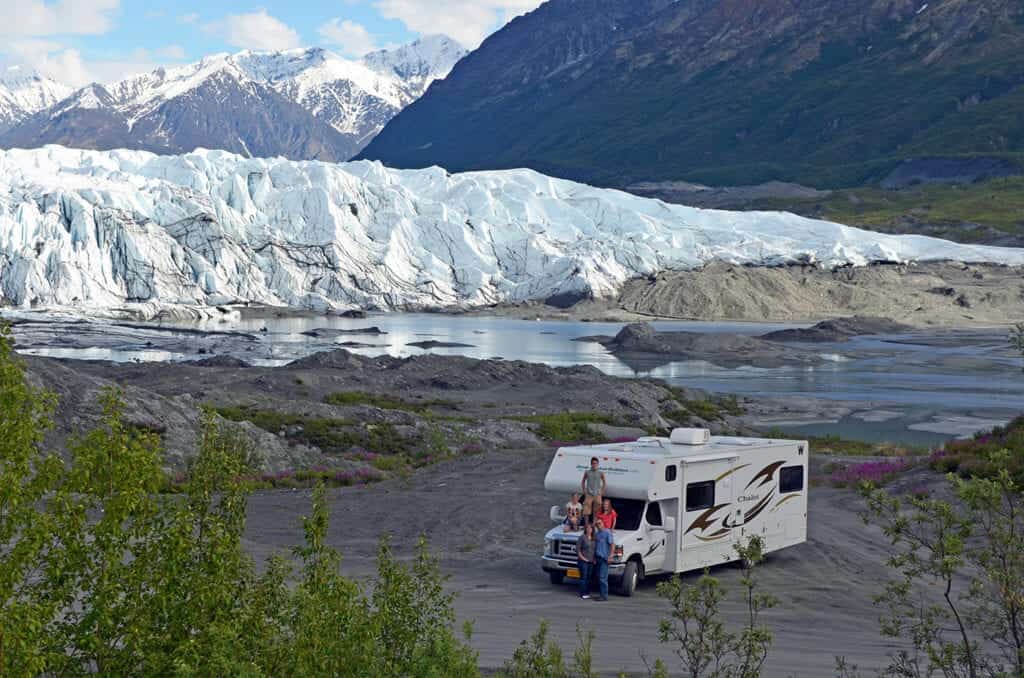 Glacier Tours is located approximately 2.5 hours north of Anchorage, Alaska.
---
At Mile 102 of Glenn Highway, turn onto S Glacier Park Rd.
---
Follow S Glacier Park Rd. for 1 mile.
---
PLEASE DRIVE SLOW
Though maintained well, roads may be slippery in the winter.
Do NOT park near Glenn Highway and walk down the hill to our location. Drive 1 more mile, cross a small bridge, and then you'll see our lodge where you will check in for your tour or access.
---
ADDRESS
66500 S Glacier Park Rd, Sutton, AK 99674 USA
Roads Are Well Maintained All Year Round
Click for Live Road Conditions
Head Towards Palmer
From Anchorage, head north on Glenn Highway. After 30-40 minutes of driving, be sure to stay on Highway 1 to Palmer.
Drive through Sutton, AK
In Sutton you'll find one of your last good options for a snack or bathroom break, but do continue on.
Pass the Zipline
Once you've reached the community of Glacier View, continue past the zipline tours.
Watch for the Sign, Mile 102
Coming from the east (from Palmer) watch for the Matanuska Glacier Access sign.
Signage View if Travelling from the West
If traveling from the west, watch for the sign soon after seeing Matanuska Glacier in the valley to your left.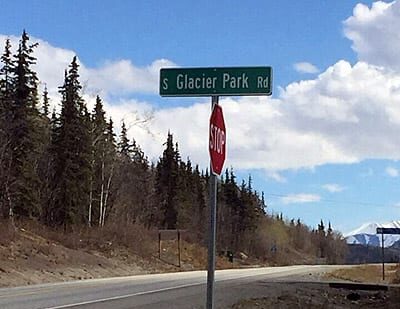 Turn onto S Glacier Park Rd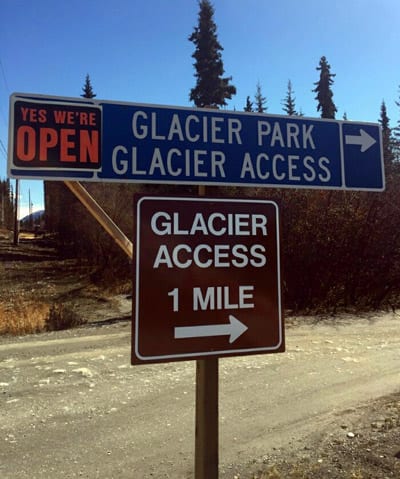 IGNORE! Just a silly, family feud.
---
Summer Glacier Tours
You can't visit Alaska without seeing a glacier close up, or standing on one! Glacier Tours on the Matanuska offers daily summer fun on the ice with guided trips by knowledgeable tour guides. They know all the best photo ops! Combine the unparalleled beauty of the blue, glacier ice with the contrast of lush vegetation on the surrounding slopes. Get a breathtaking view of the Matanuska Glacier, Chugach Mountains and Talkeetna Mountains all in one place. These are memories that will last a lifetime.
Learn more about Matanuska Glacier Summer Tours
---
Winter Glacier Tours
Baby, it's cold outside!  Yes, and that makes for spectacular glacier viewing. Get your snow gear on and join us for an unforgettable trek out over the Matanuska Glacier. Glacier Tours on the Matanuska offers daily winter tours, winter activities, and winter glacier access to Alaska's largest glacier accessible by road. Immerse yourself in the beauty of the glacier, a vast river of ice surrounded by snowy peaks and wilderness.
When you're not sure what to do on a brisk, winter day, give us a call to plan a winter glacier tour for your family and friends.
Learn more about Matanuska Glacier Tours in Winter
---
---
MATANUSKA GLACIER PARK
Year-round Glacier Hiking, Glacier Climbing & Guided Glacier Tours
Join us for a fun-filled day exploring the Matanuska Glacier. "The largest glacier accessible by car in Alaska". The scenic two-hour drive northeast of Anchorage on the Glenn Highway makes it an easy day trip from Anchorage. The Matanuska is a beautiful valley glacier 27-miles long and four miles wide descending twelve thousand feet to the terminus. Nestled in the breathtaking Chugach Mountains, our unique location gives us some of the best weather in the state of Alaska.
GLACIER TOURS IS LICENSED & INSURED WITH 34 YEARS EXPERIENCE IN BACKCOUNTRY GUIDING!