Best Alaska Glacier Tours
The Matanuska Glacier is the only glacier you can drive to in Alaska.
Looking for the road to Matanuska Glacier? Don't be confused!
We're in the process of improving signage on route to the glacier. In the meantime, please ignore any contradictory signs.
Traveling from West
Traveling from East
Turn on S Glacier Park Rd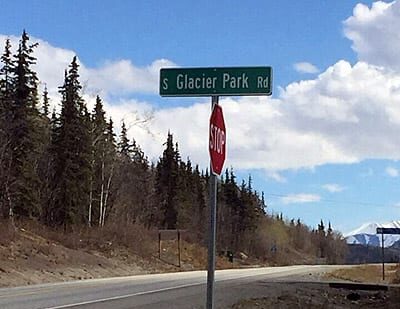 Follow Glacier Park Rd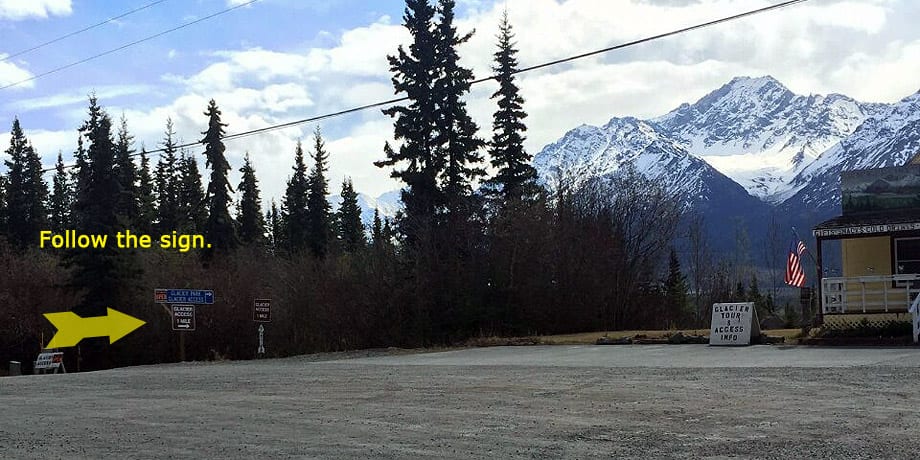 Follow the BLUE
At exactly Mile-102 on Glenn Highway, look for the BLUE sign, located 150ft from the shoulder, just past Wickersham Trading Post if coming from Anchorage or Palmer.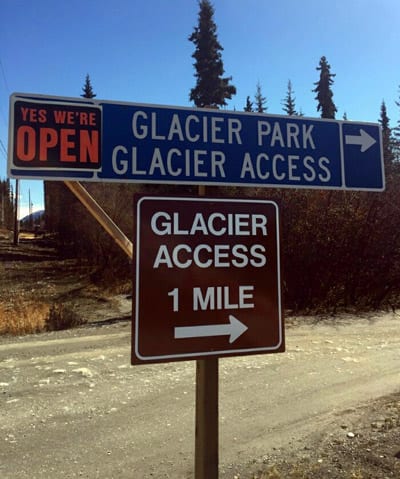 Ignore the BROWN
Please ignore the BROWN sign. It applies to an adjacent property. Proceed to our office and the Glacier Access gate. We'll have you on your way to touring or self-exploring Matanuska Glacier in no time.
Questions?
You can't visit Alaska without seeing a glacier close up, or standing on one! Matanuska Glacier Adventures offers daily summer fun on the ice with guided trips by knowledgeable tour guides. They know all the best photo ops! Combine the unparalleled beauty of the blue, glacier ice with the contrast of lush vegetation on the surrounding slopes. Get a breathtaking view of the Matanuska Glacier, Chugach Mountains, and Talkeetna Mountains all in one place. These are memories that will last a lifetime.
Baby, it's cold outside! Yes, and that makes for spectacular glacier viewing. Get your snow gear on and join us for an unforgettable trek out over the Matanuska Glacier. Matanuska Glacier Adventures offers daily winter tours, winter activities, and winter glacier access to Alaska's largest glacier accessible by road. Immerse yourself in the beauty of the glacier, a vast river of ice surrounded by snowy peaks and wilderness.
When you're not sure what to do on a brisk, winter day, give us a call to plan a winter glacier tour for your family and friends.
All levels of ability welcome and accommodated, including those unable to walk.
MATANUSKA GLACIER PARK: Year-round Glacier Hiking, Glacier Climbing & Guided Glacier Tours
Join us for a fun-filled day exploring the Matanuska Glacier. "The largest glacier accessible by car in Alaska". The scenic two-hour drive northeast of Anchorage on the Glenn Highway makes it an easy day trip from Anchorage. The Matanuska is a beautiful valley glacier 27-miles long and four miles wide descending twelve thousand feet to the terminus. Nestled in the breathtaking Chugach Mountains, our unique location gives us some of the best weather in the state of Alaska.
It is a fifteen to twenty-minute hike to the ice for those who want to explore on their own or a fully guided glacier trek for those interested in learning about glaciology and history. Ice climbing instruction is also available.
MATANUSKA GLACIER ADVENTURES IS LICENSED & INSURED WITH 34 YEARS OF EXPERIENCE OF BACKCOUNTRY GUIDING!