Anchorage, Alaska Glacier Tour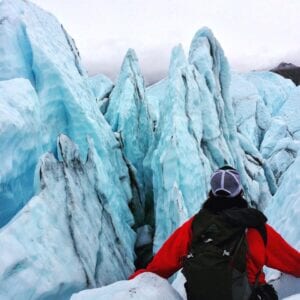 Departures: All day, call 907-745-2534 to schedule.
Cost: $150 per person
AK Residents: $50 per person
Active Military: $50 per person
Children 14 & Under : $30 per person
Description: Join one of our Anchorage, Alaska glacier tours on a once-in-a-lifetime excursion from the lodge out to the terminus of the Matanuska Glacier. Guides will narrate the tour, share their knowledge and are more than happy to stop for photos along the way.
All levels of ability are welcome and accommodated, including those unable to walk.
Matanuska Glacier Adventures is proud to offer tours on the unique and beautiful Matanuska Glacier. At 4 miles wide and 27-miles long the Matanuska Glacier is the largest glacier accessible by car in Alaska. A two-hour drive northeast of Anchorage along the Glenn Highway, a Nationally designated Scenic Byway, offers breathtaking views of the Chugach and Talkeetna mountain ranges.  Make it a fun and exciting day trip for the whole family!
Come and spend the day exploring ancient ice, in addition to learning about the history and glaciology of the Matanuska Valley, enjoy hands on adventure while having a truly Alaskan experience. The toe rises gradually to the impressive ice falls, moulin's, and crevasses of the glacier offering the chance to take a step back in time and view how ice shapes the land around it. We guarantee white ice on every trip.
With over 34 years of guiding experience, new equipment and trained glacier guides, you can have confidence in us to take great care of your family while you explore this unique landscape. Each guided trip is custom tailored to the group's physical abilities and interests. With this in mind, you can expect a one-of-a-kind, truly unique glacier experience.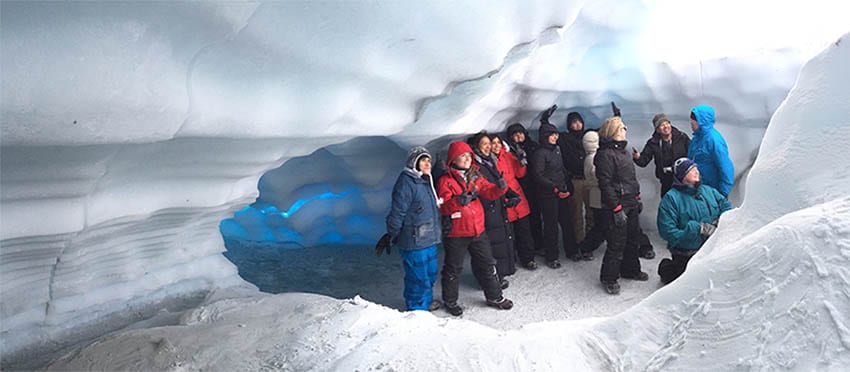 What to Bring
Summer Gear
During the summer we suggest you wear long pants, a light jacket and sunglasses as well as supportive hiking boot or trail shoes.
Winter Gear
During the winter months, we suggest you dress in layers, wearing long, insulated pants, a heavy jacket, warm gloves/hat, and sunglasses, as well as supportive and insulated snow boots or hiking boots. Be sure to check the weather before your trek and dress appropriately, especially taking windchill into consideration.